Back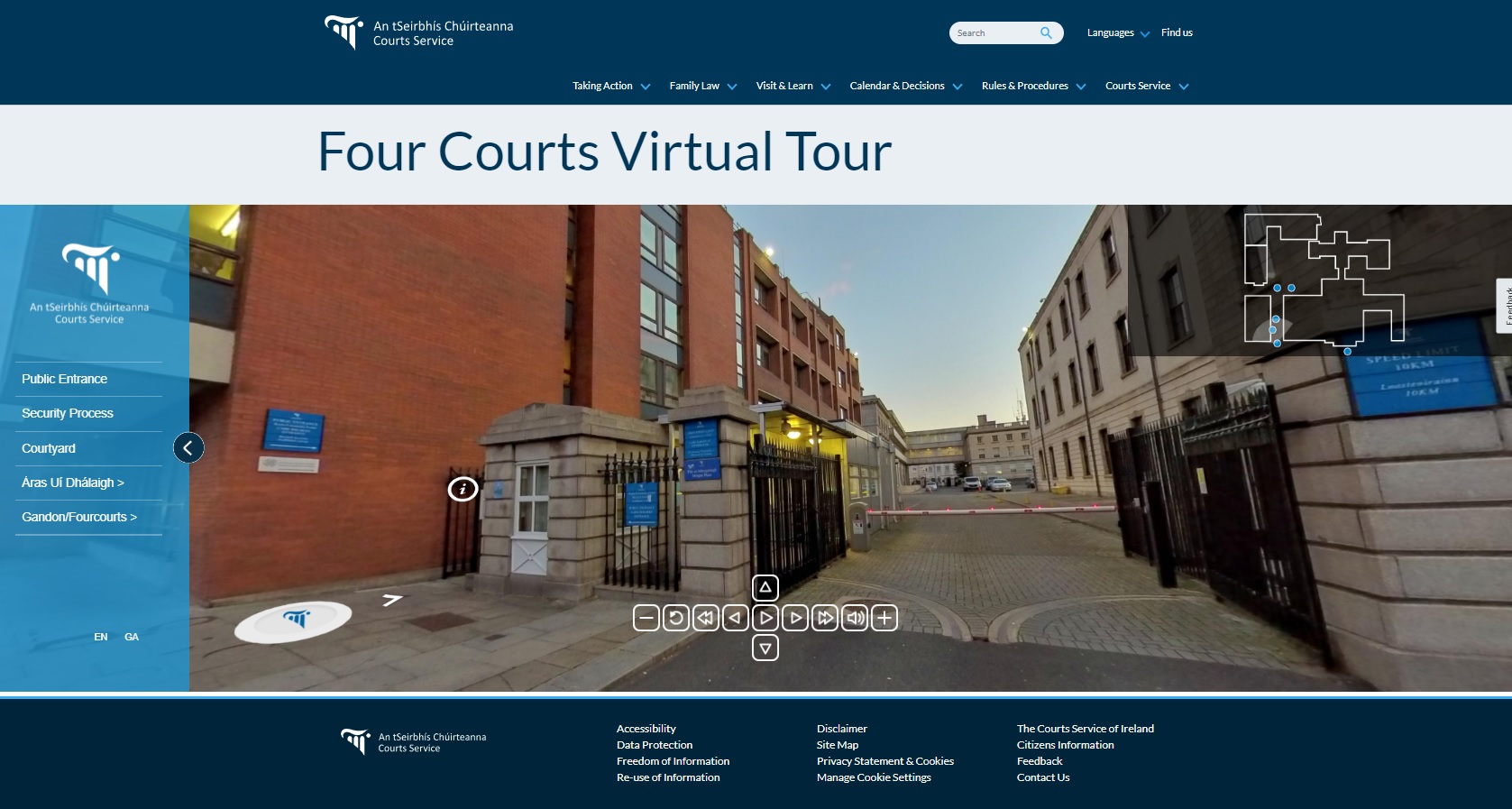 Launch of new Family Law information resource with interactive 360 Virtual Tours funded by the Public Service Innovation Fund
30th March 2023
Thursday 30 March 2023:
Today the Chief Justice Donal O'Donnell attended the launch of new easy to understand information on courts.ie.
To better understand the different elements of Family Law, people can now access Family Law information developed using plain language and displayed in an accessible and user-friendly way. This information in easy-to-understand language gives people the wording to discuss legal processes, applications and resolution options with legal practitioners and professionals, as well as our staff in the Courts Service.
To prepare users before attending the Court, the new 360 Virtual Tours, also launched today, allow people to experience the look and feel of the Courts in advance. This can reduce anxiety for many Court visitors. The 360 Virtual Tours demonstrate what to expect both outside and inside the building. So, by the time a person arrives in Court they are better prepared to engage in the process. We developed the 360 Virtual Tours as a direct response to user feedback and the Department of Public Expenditure and Reform's Public Service Innovation Fund 2022 funded their development.
The Chief Justice Donal O'Donnell said at the launch that, "Ultimately, we believe that designing these information points 'with users for users', will lead to a better experience for them and their families, as well as the Courts Service staff, judiciary and practitioners with whom they engage throughout the process."
He said that "Improved information helps those trying to exercise their rights through the system reducing the anxiety created by the unfamiliarity of the process. The virtual tours are also very useful for those needing to attend court venues for the first time".
Justice Minister Simon Harris T.D., in support of the event, said "These new services are a really positive example of the potential of the Courts Service Modernisation Programme to deliver an improved and more modern operating model designed around the court user. They have been developed with a user-first mentality and carefully crafted based on user feedback, to address the obstacles users have previously experienced when engaging with the Courts and court processes.
"It is this kind of commitment, forward thinking and innovation that is integral to making our justice system work better for everyone by improving systems and increasing efficiencies. My Department recently published the first National Family Justice Strategy, one of the goals of which is to improve access to clear, easy-to -understand information for court users of all ages. Developments like those being launched today by the Courts Service, providing information on family law in plain English, are so important in making the family justice system more accessible."
Minister for Public Expenditure, NDP Delivery and Reform, Paschal Donohoe TD speaking ahead of the event said: "I am delighted that my Department was able to support these important initiatives. Our focus is on achieving real transformation to deliver better public services that improve the lives of people in this country. These projects achieve that aim by providing tangible supports to individuals and families at what can be a very challenging time. These projects represent the value of working across disciplines and engaging service users at the heart of design"
The newly developed family law information provides access in plain language information across all family law court topics. It includes general and courts specific information on divorce and separation, maintenance, domestic violence, making arrangements for children and other family law matters. There is also information on what to expect in court and how to prepare.
When we spoke to court users the problem that kept being highlighted was the lack of easy-to-understand information on court processes and on the court experience which impacted on their ability to make decisions and understand the process involved. This new information will go a long way to help address that problem. In addition, the launch of this new information will help address several actions in the Family Justice Strategy including goals to improve information and awareness, signposting to alternative dispute resolutions and providing digital services.
Emer Darcy of the Courts Service who headed up this initiative said, " Our family law vision is for the system to be focused on best outcomes and to empower people, families and children take the best path for their individual circumstances – which is very much aligned with the Family Justice Strategy and the principles of the Family Court Bill. When we asked people what needed to change, it was no surprise that information in plain language was top of the list. People asked for help to understand both the court experience and the court process".
Features of the new website resource are:
Animated videos to help understand how to prepare for court, supported by updated information on what to expect in a family court.
Information on family law topics such as domestic violence, arrangements for children (guardianship, access, custody and passports), maintenance, separation and divorce and other matters such as gender recognition or paternity.
Each family law topic has an explanation of what it is, how to apply, where you can access help – be that linked to safety, resolution options, legal help and advice, and relevant support services such as parenting or financial matters. Some topics also include information on what should be considered.
Where it is appropriate to highlight to people that they can agree matters between themselves or with help we have done that. It is not an appropriate approach for family units or intimate partner relationships where there is violence or coercive control.
There are eligibility checkers and step by step guides for the main court application types – domestic violence, maintenance, arrangements for children (guardianship, access and custody) and divorce.
For those have received court papers there is information on how to respond. There is also information on how to appeal a court order.
Information on how to prepare for attending a family law hearing.
Plus information about legal advice and representation, mediation, and signposting to a wide range of support services
The 360 Virtual Tours have been developed in response to particular 'pain points' the Courts Service Civil Reform team noted when listening to users. The Civil Reform Team recognised how the physical environment, the formal appearance of the people that work in the Courts, the lack of practical information such as access and parking, and in general what to expect, was contributing to user anxiety.
Providing this pre-court experience online is in direct response to feedback from our court users, who told us how intimidating and difficult it can be to navigate court buildings. Through extensive engagement with support services, we heard that there is considerable fear, uncertainty, confusion and anxiety around court environments, information, and processes. We also understood that the information available to people who didn't have a legal background was difficult to grasp.
We recognise the impact of anxiety and how it disrupts the way in which people take in information and understand what is happening around them. Although there is little we can do about the physical environment in the short term, by providing people with information to help them best prepare for the experience should reduce anxiety and improve user experience and ultimately improve engagement.
Online Promotional video re the 360 Tours
Likewise Access to Information is vitally important in relieving pre court visit anxiety. We will promote the virtual tours and the Family Law information Resource in the coming days using the hashtag #UnderstandingCourts