On this page you can book your attendance at the Four Courts 100 Tours that will take place on 25 June, 2 July and 9 July 2022. Click on the link below to access our booking system.
Disclaimer – all tours are subject to Covid and the programme may be changed at short notice, we will advise via our social media channels.
Four Courts 100 - Book a tour
Four Courts 100 - Book a tour
 A Photographic exhibition 'The Four Courts - 1922, before and after' will take place in the Round Hall of the Four Court from 24 June 2022 with a launch event including talks from Michael Fewer  Ciaran O'Connor and Catriona Crowe.
The exhibition will available over the summer months to view with guided tours available on Saturday 25 June, 2 and 9 July 2022. Book your tours here.
Four Courts tours start point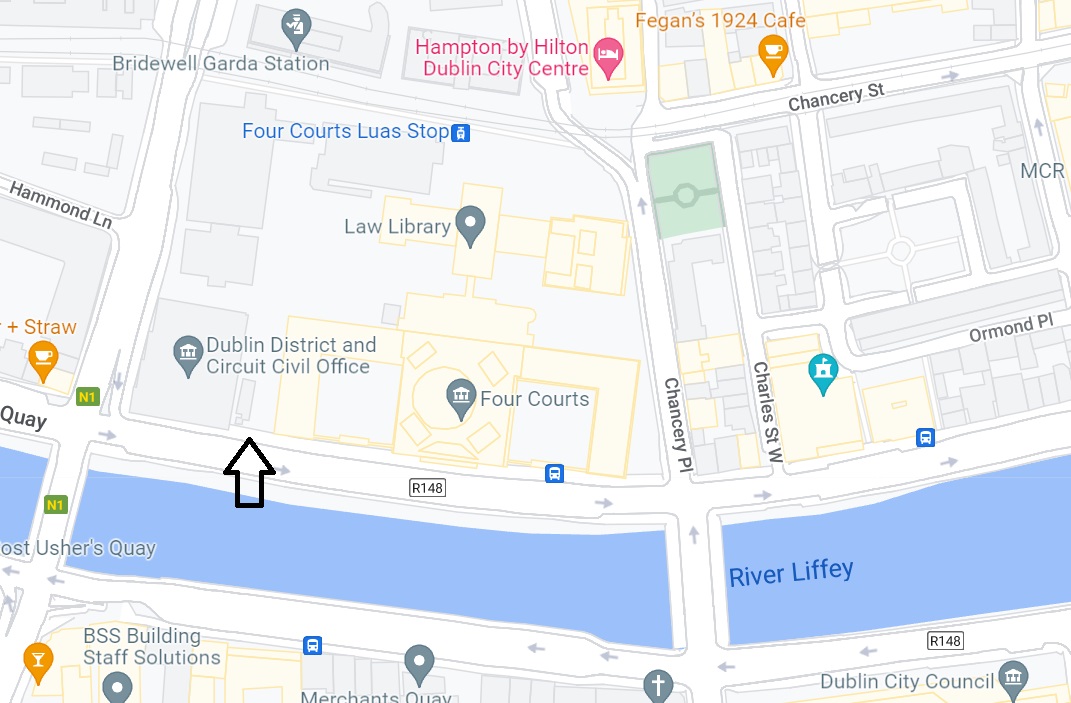 Four Courts tours start point
Once you have booked your ticket to attend for our in-person guided tours, please arrive 5 minutes in advance of your tour time through the Morgan Place gates (there is a map at the bottom below). 
Access will be through the public entrance, through the security hut, please be aware your bags will be scanned. You will meet your guide on the right side of the yard as you enter the Four Courts. Part of the tour is outside so please bring appropriate clothing, and as court is not sitting it will be possible to take photographs.
Unfortunately, parking is not available on site. 
If you are no longer able to attend please cancel your booking on Timify or by emailing us at communications@courts.ie as we know there is significant demand for these tours.